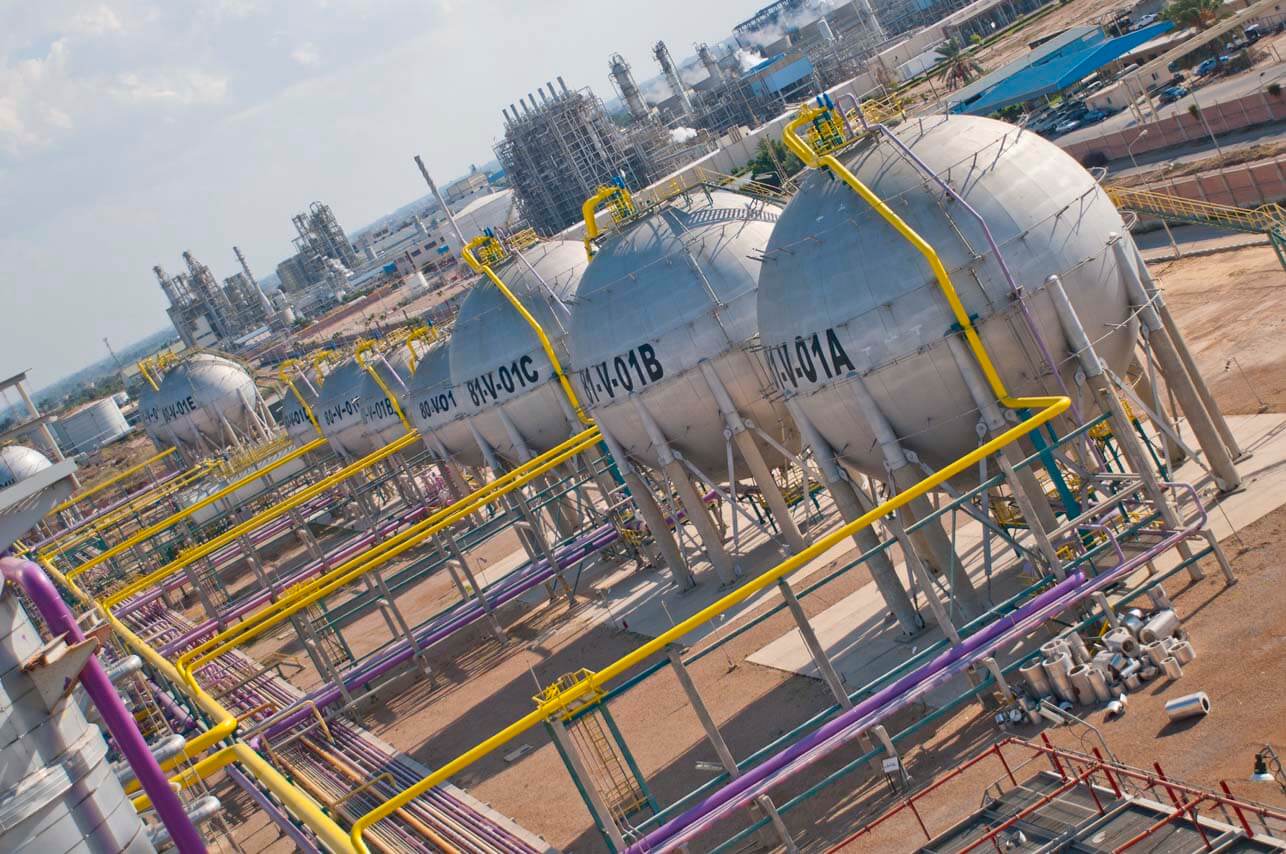 Operation and Networks
Operation & networks
(Gas Processing, Marketing, Quality control, LNG Import, Export & Liquefaction, and Consumers Gas Supply& Rationalize energy uses.)
The main Objective for the Operation and Network department is setting strategic plans for handling natural gas operations and its monetization aiming at securing gas for local market, exploring viable opportunities for maximizing the natural gas added value, applying the optimum standards for energy efficiency and use the utilization of the existing infrastructure (Pipeline/LNG facilities) to implement the strategy of Egypt oil and gas trade Hub.
This objective is achieved through a number of activities/responsibilities as follows:
1-Gas Processing and added value projects
Prepare technical studies for enhancing Natural Gas value chain and evaluate the optimum options for gas utilization.

Technical follow-up of the implementation of gas sales contracts (GSA) with foreign partners.

Monitor the daily operations and performance of all natural gas processing facilities and explore possible modifications to maximize plants' efficiency.

Participate in the review and evaluation of new gas projects.
2-Operations of Natural Gas Facilities
Evaluation and follow up of the development plans of natural gas fields.

Develop short and long-term master plans / supply & demand forecast for the produced sales gas.

Ensure that all strategic plans are aligned with Egypt National Energy Strategies and energy efficiency measures.

Secure the strategic needs of natural gas for all consuming sectors.

Prepare strategic investment plans for upgrading gas networks in coordination with the transmission and distribution network operators.

Manage, supervise and follow up the operations and maintenance activities of the existing gas networks.

Study the plan maintenance and shutdowns of natural gas fields to compliance it with the plan of consuming sectors.

Coordinate with all concerned entities regarding the downstream gas market activities (Supreme Energy Council, Industrial Development Authority, Gas Regulatory Authority…)
3-Quality Control
Conduct quality control on all laboratories within the gas processing facilities to ensure compliance with standard specifications.

Monitor the compliance of produced sales gas and its derivatives with the contracts obligations.
4-Gas Import and Export
Manage all contractual arrangements/obligations for import and export of Natural gas, LNG and commercial propane

Participate in preparing tender packages and evaluating received bids for importing LNG cargos to secure the local demand requirements.

Participate in handling the LNG import requests and in issuing the relevant approvals for third parties.

Implement action plans of Egypt's Hub strategy by capitalizing on the existing export facilities and pipelines including all negotiations and discussions with stakeholders.

Study the different options for natural gas monetization.

Attract new investments to the LNG business.

Manage the operations and commercial aspects concerning the import facilities.
5-Database
Build up and develop database system for all data/information related to the natural gas activities.

Use newest helping programs (SAP) to develop and organize database.

Prepare data and reports are related to the natural gas industry that helping decision makers in the issuance of recommendations and suggestions and raise work efficiency.

Provide data, maps and graphs for all local and state exhibitions and conferences in order to attract investment.

Prepare all operations data, work presentations to general assembly and the general budget of the company every fiscal year to assess the performance of neutral gas activity in Egypt.
6-Consumers Gas Supply
follow up on the review and fulfillment of gas supply requests submitted by customers through the gas transportation and distribution companies.

Prepare technical and economic feasibility studies for gas distribution and delivery projects to various consumers and economic sectors through cooperation with distribution companies.

Study and evaluate the current / future consumption contracts.
7-Rationalize energy uses
Implementation and coordination of strategies for raising energy efficiency in cooperation with the supreme committee for energy conservation in the petroleum sector and the energy efficiency department at the ministry.

Prepare and follow up various studies and projects related to the rationalization of energy uses (gas, oil and electricity) in various sectors.
Major Principles
Local Gas Consumption
As for providing the needed energy for community development, a reflection of the increase in the rate of economic growth, mirroring a rapid increase in consumption across all sectors of the country. The strategy of Egyptian petroleum sector focuses on the local market demand and gives it absolute priority. Total local consumption of natural gas in 2019/2020 reached 2106 BCF.

Natural Gas Consumption Sectors (2019/2020):
Electricity Sector




Electricity Sector is the largest gas consumer, where natural gas consumption reached 1273 BSCF (3478 MMSCFD) representing about 60 % of total local gas consumption.

Industry Sector




Natural gas consumption by industry sector reached 479 BSCF (1309 MMSCFD) representing about 23% of total local gas natural (Fertilizer 235 BSCF - Iron & Steel 58 BSCF - other industries, Refractories & Cement 186 BSCF).

Petroleum Sector




Natural gas consumption by petroleum sector (Petroleum & Petrochemical Companies – Methanol & Gas derivatives) reached 234 BSCF (639 MMSCFD) representing 11% of total local natural gas consumption.

Residential Sector




Natural gas consumption by residential sector reached 99 BSCF (271 MMSCFD) representing 5% of total local natural gas consumption.

CNG Sector




Natural gas consumption by CNG sector reached about 21 BSCF (57 MMSCFD) representing 1% of total local natural gas consumption.
Gas export and import through (2019/2020)
The exported natural gas quantities to Jordan through Arab gas pipeline reached about 34 BCF.

LNG exported from ELNG plant reached 120 BCF (Equivalent Gas to LNG exported) by 33 cargoes.

Commercial Propane (Derivatives) exported reached 271 MT by 83 cargoes.

Natural gas import has started in January 2020 through the Marine gas pipeline, however the total imported quantities of natural gas delivered to the national gas grid reached to 15 BCF.
Gas derivatives:
Condensate production reached 31 MMbbl/Y (average 84 MbblD)

Ethane/Propane production reached 1086 Mtons (average 2968 Ton/D)

Propane production reached 478 Mtons (average 1306 Ton/D)

LPG production reached about 1.2 MM ton (average 3151 Ton/D)
Production Companies:
Rashid Petroleum Company (RASHPETCO)

Burullus Gas Company (BURULLUS)

El-Mansoura Petroleum Company (MANSOURA)

El-Wastani Petroleum Company (WASCO)

North Sinai Petroleum Company (NOSPCO)

Pharonic Petroleum Company (PHPC)

Belaiem Petroleum Company. ( Petrobel)

Khalda Petroleum Company.

Badr Eldin Petroleum Company (Bapetco)

Abu Qir Petroleum Company

Desouq Petroleum Company (Desouqco)

Agiba Petroleum Company (Agiba)

General Petroleum Company (GPC)

Suez Oil Company ( SUCO)

South Dabaa Petroleum Company ( Dapetco)

Gulf of Suez Petroleum Company (Gupco)
Mid-Stream Companies:
Egyptian Natural Gas Company (GASCO)

United Gas Derivatives Company (UGDC)

Egyptian Bahraini Gas Derivatives Company (EBGDCO)

Egyptian LNG (ELNG)

Spanish Egyptian Gas Company (SEGAS)

East Gas Company (EGC)