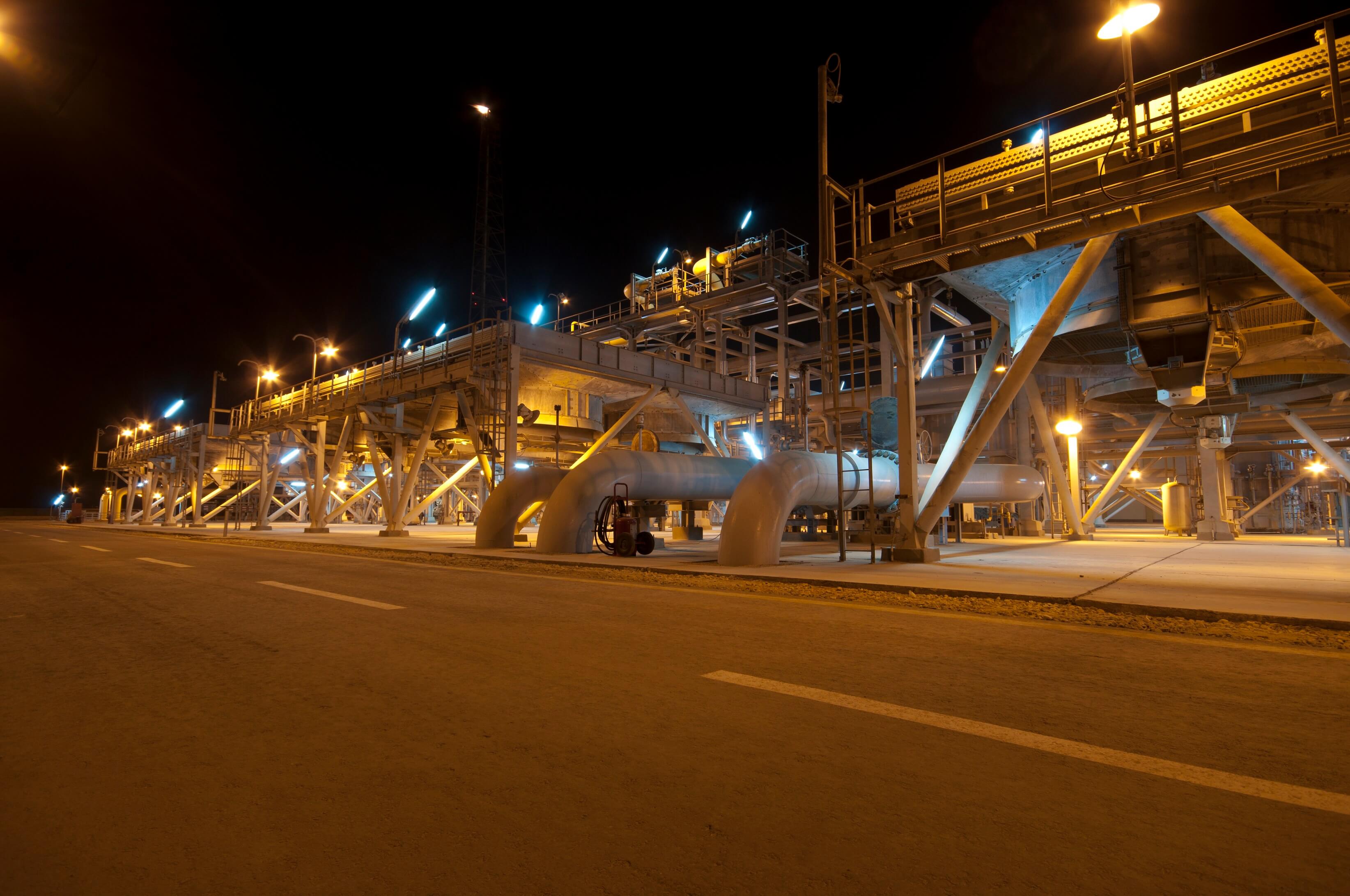 Planning and Gas projects
Encourage investment in natural gas activities and promote the private sector/foreign investments in gas projects.

Participate in the preparation of the national gas plan, and prepare the investment budget for gas projects based on execution priorities and available resources budget.

Execute gas connection projects through expanding high-pressure pipelines, metering, reduction and filtration stations, monitoring & controlling systems for all consuming sector (electricity, industrial, commercial residential, etc.).

Follow up implementation of the Gas Projects through all phases versus project schedule to eliminate obstacles (if any).

Implement EGAS plan for upgrading the national gas grid and preserve EGAS assets, following the standard maintenance procedures for gas pipeline projects and its attachments (periodic maintenance, preventive/predictive maintenance, cathodic protection, etc.).

Expand use of gas as fuel for vehicles CNG through the establishment of compressed natural gas stations and conversion centers

Coordinate to prepare EGAS plans for main gas activities, and follow-up reports (monthly, quarterly & annual reports), as well as non-periodical requested reports.

Take part of negotiations over loans provided by funding entities, while assuring EGAS financial policies implementation towards the listed projects in the investment budget.

Develop techno-economic studies for the Gas Projects (Gas processing / liquefaction/ regasification, offshore platforms, gas connection, etc.) subject to implementation by the Petroleum sector/contracting companies and provide technical consultation throughout the project phases.

Participate in reviewing technical documents of EGAS tenders related to gas projects and share in tenders' evaluation process.

Take part in all gas agreements/contracts related to gas transmission, distribution, marketing and pricing).

Promote the use of local produced gas equipment to maximize local component in gas projects.

Engage in assessing

:

The Gas Projects' consultants /contractors /subcontracts qualification.

Interested suppliers to be interested within EGAS approved suppliers list.

Qualifications of foreign partner's representatives on Joint Venture organizations.

Carry out research and prepare reports related to Gas Projects and issue regular reports on EGAS activities.

Prepare & Coordinate EGAS general assembly meetings' presentations.

Participate in developing EGAS website and run its regular updates.
Natural Gas Local Distribution and Connection:
Total number of residential consumers connected with natural gas reached 11.15 million consumers since commencing the activity in 1980 till June 2020.

During the fiscal year 2019/2020 number of residential consumers connected with natural gas reached about 1070 thousand consumers including 188 thousand in Upper Egypt governorates, (Gas connection rates were 50 thousand units annually during 80s and 90s).

Commercial consumers reached 1820 including 428 bakeries bringing total to 22437 commercial consumers till June 2020, (Including 8421 bakeries).
Industrial gas consumers reached 54 including 15 brick kilns bringing total number to 2585 Industrial consumers including 432 brick kilns till June 2020.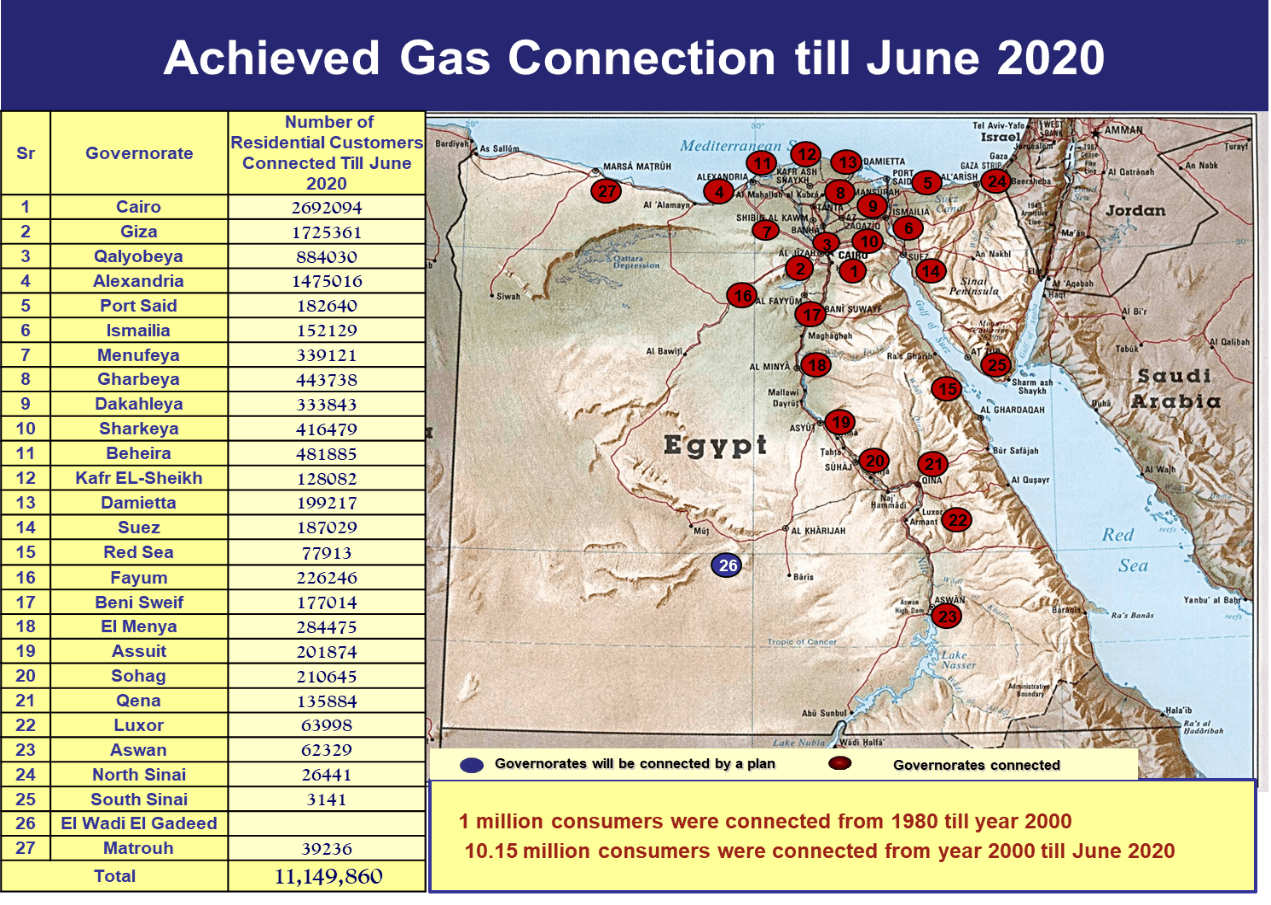 Compressed Natural Gas "CNG"
Within the framework of achieving the national strategic goal to preserve the environment, the activity of using Compressed Natural Gas in vehicles has expanded as environmental clean fuel, to reduce liquid fuel imports by gradual replacement of natural gas for all vehicles, through the coordination between the Ministry of Environment and local administrations all over the governorates.
Total converted vehicles reached 318260 since starting CNG activity till June 2020.

Converted vehicles during 2019/2020 reached 42292 vehicles. these vehicles were converted throughout 78 conversion centers, and they are being fuelled through 206 CNG stations, affiliated to 6 CNG companies.

New Conversion Centers during year 2019/2020: 7 conversion centers was established:
2 conversion center (Qena / Sohag) affiliated to Gastec.

2 conversion center (Nasr city / Qena mawkaf almohafza) affiliated to Car Gas.

3 conversion center (Asyot ring road / Vodafone 6 october / Almenia makosa) affiliated to Master Gas.
New CNG Stations during 2019/2020: 19 CNG station was established:
(Qena / Adel ALsherbiny port saied / Shahn nakelat hurghada / Zakazik B / Alasher tharwat C / Bany Sweef tezment / Qaliub B / Joseph Tito B / Altebeen / Hurghada 2) affiliated to Gastec.

(Bany Sweef algarage / Gesr alsewees / Mehwer ALmosheer NA / Qena mawkaf almohafza) affiliated to Car Gas.

(Hurghada alhegaz 2 / Asyot ring road / Vodafone 6 October / ALrehab / Almenia makosa) affiliated to Master Gas.